Free VPN (Virtual Private Network) is widely popular search term in Google. Most of us need VPN for privacy purpose or to bypass government restriction or avoid the rough websites country block. Although many companies offering free VPN services, as it always happens most free don't work properly. Some put very limited data with just few country option, others don't work at all. Here I am going to share with you few cross-platform VPN services which are really providing top quality services without any cost and few of them will give you an unlimited amount of data.
List of Top 5 Free VPN Services: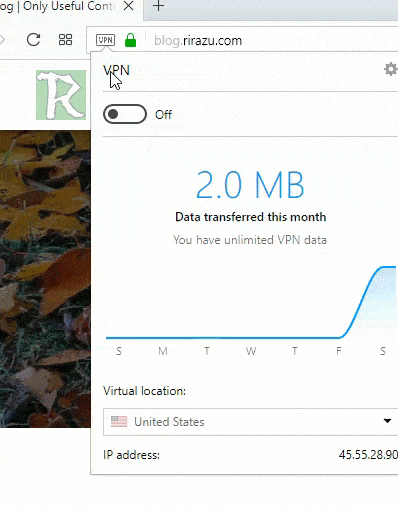 Opera Browser: Well, don't be surprised. According to TechRadar Opera is the 2nd best browser just after Chrome. I am a frequent Opera user, it's has a lot of good features and VPN is new but most effective among them. In Opera VPN you will receive unlimited bandwidth, 5 countries: Canada, USA, Germany, Netherlands, Singapore and just one click (follow VPN text left of the address bar) setting. I am using it last 3 weeks and it's working perfectly, speed is good as it's for normal browsing. No failure notification so far and which is amazing. I don't think, you'll need another VPN after using Opera.
Windscribe: If you have Opera then don't need Windscribe VPN but you need it if you don't wanna leave your favourite Chrome/Firefox browser. Windscribe a Canadian company and they are relatively new at VPN service, which of course does not mean they are bad. They have apps for almost every platform, you can Download a Windows Installed version (I never use it but it should be fine), Chrome extension, Firefox add-on, Linux version, iPhone App and Mac too. Unfortunately no android version so far available. At a Glance Windscribe free VPN Plan:
Unlimited Devices
11 locations including USA, Canada, UK
Bandwidth: 10GB+
By default, it'll also work as an Adblocker (not good for us :))
Zenmate VPN: Before Opera and Winscribe I used Zenmate for a long time. This worked for me quite good. For free VPN, 4 location, unlimited bandwidth and apps for every platform including Chrome, Firefox, Opera browser. Sometimes it can be slow, otherwise, you should not face any problem.
TunnelBear: Interesting company name!. I still have TunnelBear installed version in my windows. High speed, multiple locations and..the only problem is limited data, 500 MB for the free plan, which you can increase to 2.5GB just by tweeting their VPN services news (you'll have an option after installing TunnelBear). Like others, it has app for Mac, Windows, iOS, Android, Chrome and Opera.
DotVPN: It's in the list because of TechRadar recommendation. Personally I never use it, so can't tell how it'll work for you. Just give a try and feel free to share your experience with us.
Do I need a Paid VPN or Free VPN is enough?
If you don't have to use VPN constantly then I think free VPN will be enough for you. But when you live country like China or similar countries where most popular services are blocked like Facebook/Youtube then maybe free VPN is not a good option. Youtube needs a lot of bandwidth, within few days you will cross free VPN quota but I think, Opera can be a smart choice. They are offering unlimited data, so before purchasing any VPN plan please try it, maybe it'll work out for you. Spam IP also another problem for the free plan. People who need great privacy, free VPN can't be good for them. For business purpose, you should always use paid VPN.