Apple's marketing strategy is that when they bring a new smartphone update, they want customers to throw away the old smartphone and buy a new iPhone!. Apple iPhone 13 came on the market on September 24th, today we will try to show you, what is actually in iPhone 13, how much better it is than iPhone 12 and the biggest question is, should you really buy your iPhone 13! especially if you already have iPhone 12. The market value of the iPhone 13 in the USA is around 799$! . Before buying a phone with such a high price, you should know what this phone really is.
First seen
The iPhone 13 in Apple's smartphone series is not a game-changer type phone. New innovations are a big reason for Apple smartphone updates. What used to be the time of Steve Jobs is now but there is no such innovation as before. The Apple 13 version has some new features like- battery life has improved, powerful processors have been used, and the camera design is much better than before. But as I said, if you already have iPhone 12, there is no significant reason to buy this one, honestly.
Short review
The iPhone 13 didn't make much of a difference, but it did improve some things. The Apple 13 is considered to be the best of all iPhone smartphones, mainly due to the changes in battery life, processor power, display, and camera (not from the hardware point of view but software upgrade).
On paper, the iPhone 13 could actually be called the iPhone 12S. Apple did not announce the 12S mainly for marketing reasons but they are bringing it to the market as a new smartphone. The iPhone 13 design is very close to the iPhone 12, the technical specifications are not so different and the iPhone 13 does not have any new features like eye-popping. However, it must be said that the iPhone 13 is a bit better than all the previous series of the iPhone, and especially in some places this device has been improved.
Battery life
The biggest improvement in the iPhone 13 is the battery life. The previous iPhones never had such strong battery life, you had to charge the iPhone almost every day! . The iPhone 13 is expected to be charged for at least 24 hours. Battery review details can be given after a few days of using the device.
Processor
Apple 13 uses A15 Bionic processor. This processor is much more powerful than Apple's previous smartphones and will work much faster when combined with 4 GB RAM. You can run multiple apps at once and never lag. iPhone 13 is a much better option for gaming. But if you really want to play mobile games, then Android is much superior.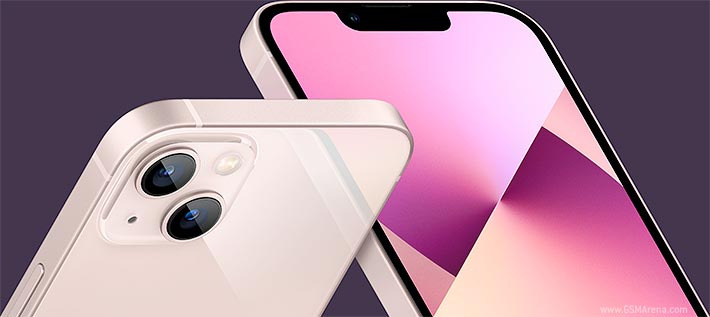 camera
The camera of the iPhone 13 is not very different from iPhone 12. However, it is not true that there was no update at all. There have been a lot of updates in terms of software, especially for those of you who want to take photos very quickly, these photos will no longer be blurred, they will be crystal clear. The iPhone 13 has a 12-megapixel wide camera (f / 1.6) and a 12-megapixel ultra-wide camera (f / 2.4). There is no telephoto system in iPhone 13 for taking long-distance photos, you have to take these types of photos by digital zooming. This is a magnificent camera for taking close-up photos. The main camera takes photos using 1.7µm pixels, which will give your photos much better quality.
Display
The iPhone 13's touch is much better than previous phones. Especially if you update to iPhone 13 from iPhone XS or older phones. The iPhone 13 uses OLED technology, which gives you a much brighter screen and the picture quality is simply fantastic. However, the disappointing thing is that this phone does not use the 120Hz refresh rate, so you will not get the same experience as the iPhone 13 Pro or iPhone 13 Pro Max.
The iPhone 12 had 64 GB of storage, the good news is that Apple has upgraded the iPhone 13 to 128 GB of storage. This is enough for this type of phone, although it is very normal on Android, for apple, this is a big improvement!.
Price and release date
Whenever you hear about the iPhone price is always a big issue!. It's always higher than before and you can buy two or three 'good' android devices using one iPhone budget. Nothing exceptional happened in this case too. The price of the iPhone 13 in the American market is set at 799 USD, for the UK this is £779.
Should you buy i-Phone 13?
It depends on a lot of things. For example, if you are a brand new iPhone user, then there is no problem to take the iPhone 13. iPhone is a brand, you see it in movies, you see on TV shows, everyone is holding a half-bitten apple on the back of the iPhone, Do you know why everyone takes pictures from the back!? Brand value is a big reason for this high price of the iPhone. That's why the iPhone 13 is a very good phone for new users, in my opinion, there is no problem to take.
However, if you currently have an iPhone 12, then there is no need to take this phone. There is not much difference between iPhone 12 and iPhone 13, very little maybe 19/20.
And if you have an older model iPhone such as iPhone 8 or iPhone XR, then you can take it. The iPhone 13 has many exciting new features added to the older models, so you can update to the iPhone 13, no problem.
In particular, keep in mind that the battery life of the iPhone 13 is much better than the previous ones, the processor is much more powerful, and the software update of the camera is also something to keep in mind. If you keep these in mind, you can take iPhone 13. However, there does not seem to be any need to upgrade the iPhone from 12 to 13 in terms of price. At this price, you will get the best Android phone, which is much better than the iPhone in terms of specifications, but I said there is no alternative to the iPhone in terms of brand value. And brand value is always very costly. Many times with a single Rolex watch you can buy a whole watch shop!!.