Remember the Gangnam style? In 2012, the song appeared on YouTube like a comet and shook the world. After hearing the name of the squid game, it would seem that it is probably Sponge Bob's Patrick and Squid, in fact, it is a Korean TV series that is now rocking Netflix, the series was released on September 17th. In a nutshell, this is a Korean-style surviving series. This series is burning proof of how an ordinary person can become a terrible murderer in order to survive on his own. I finished last night, a great TV series. If you haven't seen it before, watch the series first, then watch this review.
The theme of Squid Kim is a repeat of the games you played in your childhood, where if you win, there will be 45 billion Korean money as a prize! . In this game, basically all the people who are struggling in their life, have no money, in debt are targeted and brought into the game. And the key difference with the childhood game is that if you lost there was no harm for you. If you lose here for any reason, your life will go away immediately. Surely gamers didn't know that in the beginning. Basically, except for one out of 456 people, everyone comes to play games for money. 001 is the mysterious old man in this series, I will make a separate video about him, today we will give you an idea about the main series.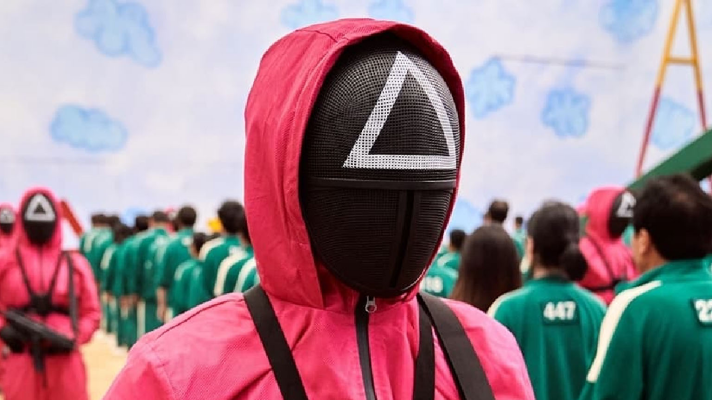 'Gi Hoon' is the main character of this series, who is desperate to solve his financial crisis. She lives with her mother, who still supports him, and he is very ashamed of that. His wife has left him, 'Gi Hoon' can meet his daughter once a week. If he can't support the girl with money, he will lose the right to see her too!. What Gi Hoon needs in such a difficult situation is the miracle through which he will be freed from all his debt and be a rich man.
Under this desperate situation, he gets the offer of this game. He can't refuse this game after hearing offers of money like a banana plant with swollen fingers. 455 other gamers like him also come to this game for the same reason and almost everyone enters this game out of greed for money. What they didn't know was that if anyone lost in this innocent children's game, they would be killed instantly. Almost all gamers come here of their own free will. When they arrive they fall into a strange situation, where all the guards wear masks. Their place of residence is strange, they have to follow the rules like a prison and until the game starts, they don't realize how terrible the situation can be. Almost everyone has to lose their life when they came here to solve life's money problems.
In the first game 'Red Light Green Light' many people are killed because when there is a red light if anyone moves a single point, he is immediately killed. After 'Red Light Green Light' everyone goes crazy but still, their real-life situation is so terrible that when they go to vote against the game, the game starts again because of a vote, which means that if the maximum player refuses to play the game, they The game will be forced to cancel.
The early part of the 9-episode series may seem a little annoying. However, from the second episode onwards, you will gradually become addicted to the series. Games are played in each episode and new characters have been developed in each game. The characters are played in such a way that at times you may feel like you are playing games with the characters yourself. The main character of the series, "Gi Hoon", his friend "Su Sang Hu" survives until the last episode of the game. The characters in the series tend to die all the time. But more important than how the characters die is how they are killed, you will almost always be restless in tension. The first of the six games played here is Redlight Greenlight, then Honeycomb, Tug of War, Marble Game, Walking on Glass, and the latest game is the title of the series, Squid Game. To me the most complicated of these games seemed to be walking through the glass, this episode was terribly exciting. Throughout the series you will always think, wearing this mask – who are these people, why or they are playing this game, what is their benefit through this game. You will find answers to many questions in the last episode.
What has been highlighted in this series is how some of the most deprived people can do horrible things to survive in their own lives. The whole series is a lot scarier because you see a lot of people die. In some episodes, there are scenes of people taking out organs and they make a profit by selling them. In the end, everyone dies, only our hero survives. But the problem is that when he gets money after doing so much, he doesn't get any pleasure in money. What is meant here is that you are doing so much for money. Even if you get the money then you will never have peace in your mind. This series is the most popular series on Netflix in recent times. The reason for its popularity is that hundreds of people are dying for the games we play when we were little, in real life because of their lack, their poverty is forcing them to play these death games. The struggles of life are highlighted in this series. When we play these games as children, we don't have the difficult chapters of life in us, we just play these games with pleasure. When we grow up, we have to play this kind of life and death game because of the struggle of life. This is the reason why there is no joy in the game 'Gi Hoon' even after that. All that is left is fear, panic, sadness, it's like winning a game and losing it.
Towards the end, Gi Hoon declares war on these evil-minded people. These people play this death game to bring joy to their boring lives. Most likely the second season of this series will come to Netflix again very soon.
It's not exactly a review, rather my personal experience with the series.