Facebook officially launched Workplace, a place where you can collaborate all business works with your team, keep them in touch. The good thing is, it's free for your small business, if I would you, must give it a try before reading all bad reviews. A business email is essential to open a Facebook Workplace account, the rest of the process is regular.
Facebook Workplace main features (Free):
Unlimited Storage Facility (File, Photo, Video everything)
Dedicated Apps for Android and iOS platform, Windows and Mac
Industry level security
No team member restriction, unlimited team allowed even in free version
You can create unlimited project groups
Desktop notification for Windows users
Live video streaming, voice and video call
Internal Business collaboration (you can connect with other companies)
Dedicated Apps and Software:
Facebook Workplace created apps for every platform, you can use it on Windows PC, Android Phone, iPhone, or even on your Mac.
General Overview
Most of us spend a good time on Facebook, just this time you can use it for your business. The workplace will give you the opportunity to keep in touch with your colleagues, share your business plan anytime and get feedback from your employees, collaborate on different projects among employees, or connect people from other companies. You are not getting a lot of business tools at this moment but Workplace is still in beta, with the growth of time more features will be added. This will act as a private social network place for your small business. I think you should try this and keep it under monitoring, maybe the workplace will help to boost your employee's performance.
It's Free and Ad-Free
Although the Workplace enterprise version has more features than the free version (very easy to guess 🙂 ), that is not necessary for your small business. You can use it free forever and with unlimited employees. Slack also offers a free package but they put a lot of restrictions (e.g. total business file storage is only 5GB but Facebook offers unlimited storage) which is not available in Facebook Workplace.
Even in the free version, I don't see any ads, so you are getting an ad-free private social network with some best tools you can use to boost your business production.
Privacy and Security
Keeping business information confidential is very important. Workplace promised to provide industry-level security. Everything shared in your business account will not be shared to any other places. There is also group privacy available (discussed in the 'Create a Project Team or Group' section below).
Familiar Environment
Workplace UI has nothing new, it's identical to your regular Facebook profile. So most employees will feel comfortable using it (assuming most of them have a Facebook account), employees don't need to learn any new technic to use Facebook workplace, it's very easy to use and even the oldest person in your business with some basic Facebook idea can use it. Developing company culture is the most important thing in business and for this matter, Workplace can play a vital role. According to research, frequent collaboration and communication between employees always bring productive results.
Read More: Small Business Press Release Tips
Create a Project Team or Group: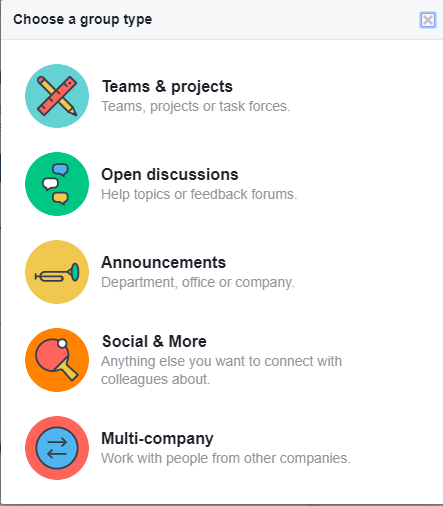 People from the HR department can create a specific team where they are able to discuss their matters, while executive people do their discussion by creating another group. Email is vital for business but here you can chat with any employee anytime you want, from the communication point of view this will be more helpful than emailing. Voice calling, Video calling, Live streaming, live screen sharing are some of the best tools here you can use with your team and bring the expected result. There are several group types available in the workplace:-
Teams and Project: specific project targeting group; employees involved in a project can share their idea here.
Open discussions: this group work like a forum, employees can share their feedback here and everyone able to discuss.
Announcements: this is your business Digital notice board
Social & more: group for your close colleagues
Multi-company – I like this group most, here you are able to connect people from other companies.
For each group three types of privacy options are available: Open, Closed, and Secret.
Facebook Workplace future
While I'm writing this article Workplace just a baby, at this moment it's not a heat or flop product but with the growing of time, we'll all know the future of the workplace. I believe if Facebook wants they can improve it a lot. They need to be better than Slack (at this moment Slack is the main competitor). The workplace has great potential since this can be a great tool as a business collaboration software and employees communication channel.